Darien Community Association has a "Flats of Flowers Sale" fundraiser online, ending May 15. When you order, you must pick up your flowers at the DCA on Tuesday morning, May 23, from 9 a.m. to 12 noon.
— an announcement from the DCA·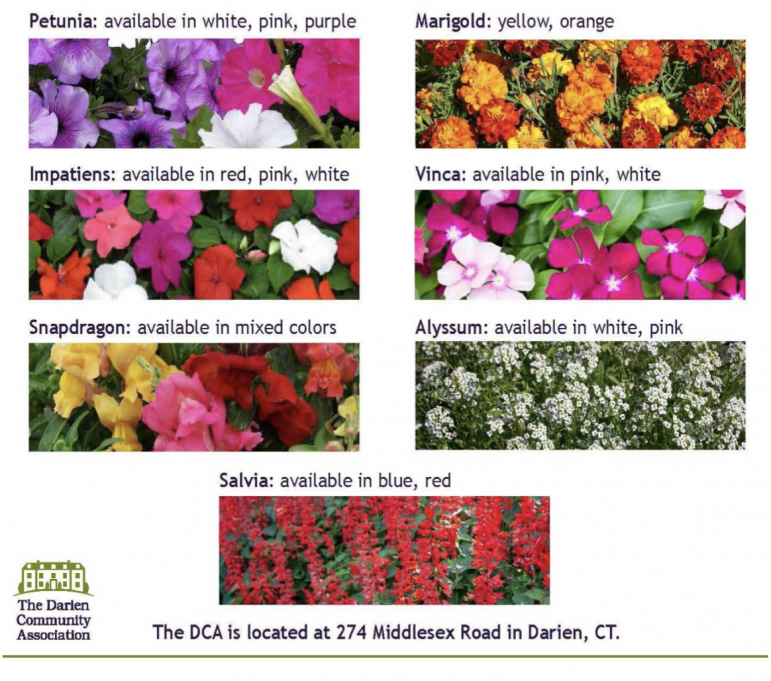 Each flat comes from a local grower and has 48 plants and costs $23. Pick up plants at the DCA, 274 Middlesex Road.
Order from the DCA website, where you choose the type of flower, color and quantity.
Flowers for sale: Petunias (white, pink or purple), marigolds (yellow or orange), impatiens (red, white or pink), vinca (pink or white), snapdragon (mixed colors), alyssum (white or pink), salvia (blue or red).
Other Gardening Events Coming Soon
• DCA Plant Sale on Friday, May 12 Includes Annuals, Perennials, Pre-Planted Containers, Native and Vegetable Plants
• May Gardener's Market This Saturday [May 6] in Greenwich Features Flowers, Plants, Food, Music
• Rowayton Gardeners' Spring Market Annual Plant Sale Coming Saturday, May 13 — Three Hours Only