Have time to shop but no time to wrap? The Darien Depot Youth Center's elves are back to wrap presents for residents just before the holidays.
Drop off unwrapped and labeled presents at the Depot and we will handle the wrapping.
A minimum $20 charge is required, but keep in mind that it helps the Depot run programs.
The "Holiday Wrap-Up" runs from:
3 to 8 p.m., Friday, Dec. 20, and 10 to 6 p.m. on Saturday, Sunday and Monday, Dec. 21 to 23 at the Depot at 25 Heights Road (next to Noroton Heights Train Station).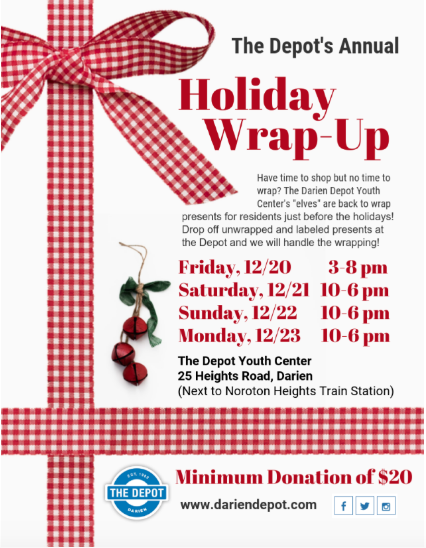 And while we're thinking about gift wrapping, check out this 7-second video and be amazed:
You've got to be kidding me. After all these years… pic.twitter.com/dhNgjCVzeG

— Chuck B (@chUckbUte) December 15, 2019