Barrett Bookstore and the Darien Community Association (DCA) in partnership with WSHU public radio invite you to an in-person talk at the DCA with Mary Louise Kelly, famed NPR reporter and co-host of newsmagazine All Things Considered, on Wednesday, April 12.
—an announcement from the Darien Community Association and Barrett Bookstore
Kelly will discuss her new book, "It. Goes. So. Fast. The Year of No Do-Overs," and answer questions from the audience.
Kelly will be in conversation with Diane Orson, special correspondent with Connecticut Public. Diane is a longtime reporter and contributor to National Public Radio. Her stories have been heard on Morning Edition, All Things Considered, Weekend Edition and Here And Now.
If You're Going …
The evening begins with a reception at 6:15 p.m.
Tickets are now available and can be purchased by registering online (by Tuesday, April 11 at the latest) or calling the DCA at 203-655-9050 extension 10.
The ticket price ($40 for DCA members; $50 for the public) includes a hardcover signed copy of the book and glass of wine/light bites at the reception. More copies of the book will be available at the event.
About Kelly's Book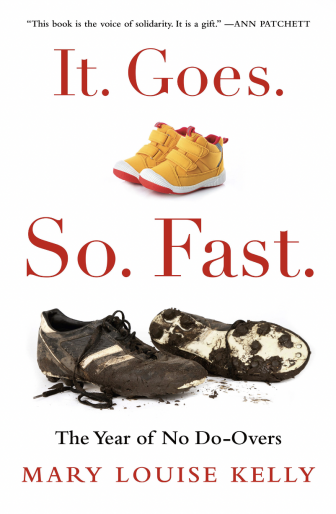 In her book, Mary Louise Kelly reflects on and comes to grips with the realities that every parent faces, whether children growing up and leaving for college, or aging parents.
"'It. Goes. So. Fast.' is a moving and funny account of the deals we cut with ourselves: what we sacrifice, what we gain, and what we really want (which is everything). By holding up a mirror to her own choices, Mary Louise Kelly gives us tremendous insight into how we struggle to be true to ourselves and the people we love, and how we're never going to get it exactly right. This book is the voice of solidarity. It is a gift."
—Ann Patchett
From Kelly's website:
My agent called, as agents do, to nudge.
"Working on anything? Any chapters for me to read?
"I wish," I sighed. "I'm way too busy. The newsroom remains bonkers. Just relentless. I'm flat out, all day every day."
"Of course you are. But in the evenings, on the weekends…"
"I can't."
"What about… a short book? Say, just ten chapters."
"No, seriously. Especially now. This year of all years."
"What? This year of all… What does that even mean?"
"James is about to be a senior. He's about to turn 18. This is my last shot. I've missed so much—so many of his soccer games and concerts and science fairs and field trips—because I was always working. And I always told myself, next year I'll be there. Well, I'm out of next years. This is it. My last chance to show up. To be present. This is the year of no more do-overs."
A pause.
"That's it," she said. "That's the book. You've got to write it."
Here goes.
More About Mary Louise Kelly
Mary Louise Kelly graduated from Harvard University and completed a master's degree at the University of Cambridge in England.
She also created and taught a graduate course on national security and journalism at Georgetown University.
A former national security correspondent and author of two espionage novels, Anonymous Sources and The Bullet.
In addition to her books, she is the author of articles and essays that have appeared in the New York Times, the Atlantic, the Washington Post and the Wall Street Journal, among numerous other publications.
_________________________
About the DCA: Celebrating its 100th anniversary this year, the Darien Community Association, a privately funded nonprofit organization, welcomes the community to its historic estate for learning, philanthropy, and enjoyment.
About Barrett Bookstore: Barrett Bookstore located in Darien, Connecticut is the largest and oldest independent bookstore in Fairfield County.