Grab a delicious meal for Mother's Day weekend as a special treat while helping The Community Fund of Darien address the hardest hit by the pandemic, our youth.
— an announcement from the Community Fund of Darien
Please join TCF as we dine "together" at home to benefit tomorrow's generation of leaders on Saturday, May 8.
Order a family meal for contactless, free delivery, and TCF will direct half your purchase to its local nonprofit partners providing stop-gap services and immediate assistance to our most vulnerable neighbors.
What You Get
The meal costs $160 per family, and the menu includes:
—meatballs marinara
—baked ziti with shaved parmesan
—mixed field green salad
—Oreo fudge brownie
—assorted breads/rolls
—bottle of wine provided by SipStirs
Orders must be submitted online by 5 p.m., Wednesday, May 5 for delivery on Saturday, May 8 between 3:45 and 5 p.m. Half of the cost — $80 — is tax deductible.
To order, go to this Web page.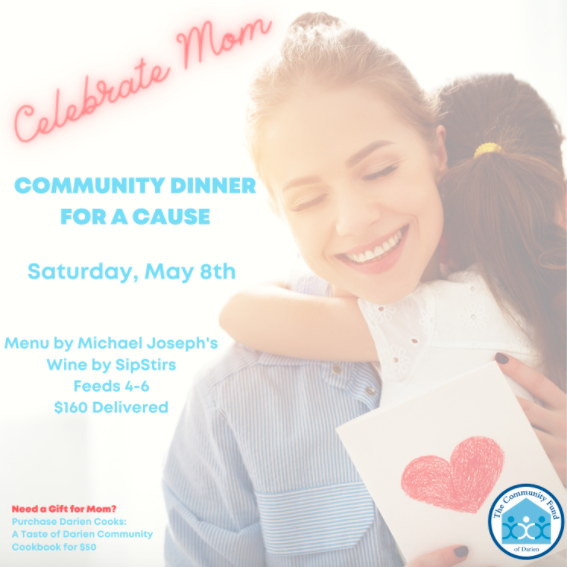 Who You Help
The TCF has identified more than $440,000 of support needed specifically for youth-related programs and services in Darien, Norwalk and Stamford.
Here are just some of the identified needs:
—Early childhood education (ages 0-5)
—Early childhood intervention for children with special needs
—After-school academic and enrichment programs
—Mobile crisis intervention & clinical mental health for adolescents
—Mental health counseling
—Tutoring in English and math
—Weekend meals for students receiving free or reduced lunches @ school
—Access to free, quality health care for low-income, uninsured children
Fifty percent of your meal purchase will go towards the funding of these critical services (thank you!).