An announcement from Drop It & Drive in Darien:
The high school version of the Drop It & Drive logo, designed by DHS junior, Kallie Coughlin, have arrived!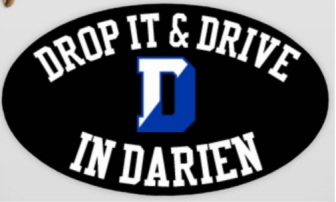 Right now, we have them to pick up at The Depot and at Fresh Green Light. They are free to Darien high school students and we will have them at the high school and at various high school clubs, etc. in January.
If we spot you with one on your car, you may get a special gift certificate for a treat at a local business.
Spread the word! Like this post and share on your timeline — especially if you know a local high schooler!
_________
Like this article? Like Darienite.com on Facebook and follow Darienite.com on Twitter.
_________