In 1990, two young boys playing in a Connecticut quarry made a startling discovery, which led to an even more frightening revelation — evidence of a vampire scare in early New England.
Hear the chilling true story, Vampires in New England, with Dr. Nick Bellantoni, Connecticut's archaeologist emeritus, during the Darien Historical Society's Historical Halloween on Sunday, October 27 at 3 p.m.
— an announcement from the Darien Historical Society
Vampire folklore was rampant in New England from 1780 to the 1890s, and a combination of disciplines helps archaeologists to discover more about this period in New England history, said Bellantoni, who has been dubbed Connecticut's "Indiana Jones."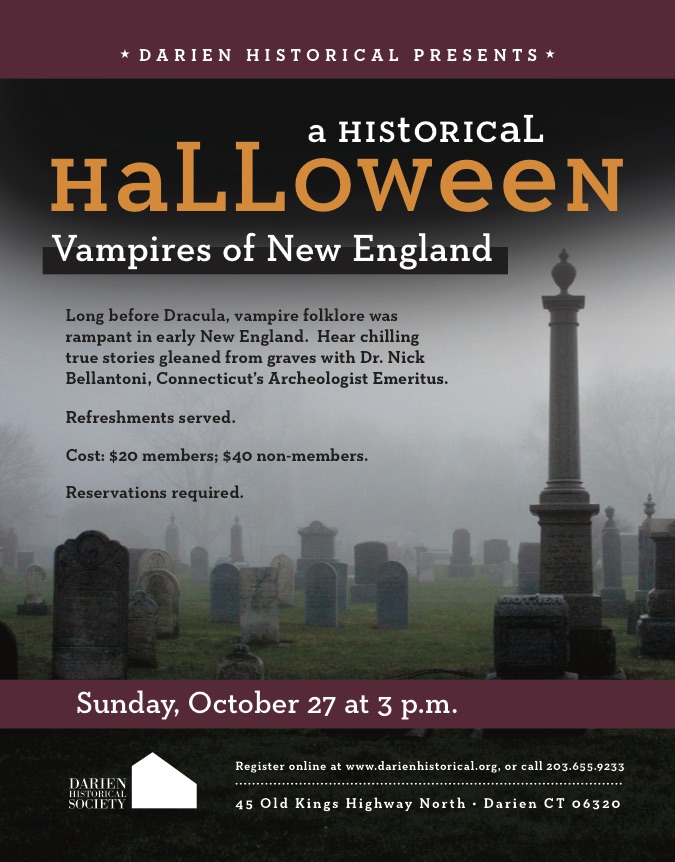 "As it turns out, a real public health issue was to blame," he said.
The case was launched in 1990 when two young boys discovered skulls at a quarry in eastern Connecticut. Bellantoni and a team of forensic scientists were called to the scene and soon discovered the site was a long forgotten colonial cemetery.
"One grave, in particular, caught our attention," Bellantoni said. "Someone had arranged the burial in a highly unusual way."
Further investigations from a variety of disciplines led to the theory that the colonists believed the grave occupant was a vampire, Bellantoni said.
Cost for program: $20 for members, $40 for non-members, $10 for students and First Responders, $10.
Space is limited, and registration is required. Register at the historical society's website, or call 203.655.9233.
We tell the story of Darien, and with your support we're writing the next chapter! Let's make history together. To get involved, give us a call at 203.655.9233 or visit our website.