Update: Saturday
Darien's fireworks display won't happen until Sunday night in order to avoid possible rain on Saturday, First Selectman Jayme Stevenson has announced:
Due to expected thunderstorm activity Saturday evening, the Darien fireworks and associated activities are postponed until Sunday evening, July 2. The Darien High School campus will open at 6:30 p.m. Sunday. Parking passes will be accepted but no refunds will be given for the reschedule.
There will be food trucks, as in previous years, "but folks may also bring picnic dinners," Stevenson said.
Update: 1:27 p.m., Friday:
If the weather threatens Darien's fireworks for Saturday night, an announcement will come early Saturday morning, and the event would be postponed until Sunday, First Selectman Jayme Stevenson just announced.
Here's Stevenson's statement:
Darien's annual fireworks display at the Darien High School is scheduled for Saturday, July 1 with gates opening at 6:30 p.m. Current weather forecasts indicate the possibility of thunderstorms for Saturday evening. Public safety is our primary concern.
A final decision regarding the fireworks schedule will be made by 8 a.m. Saturday morning. Darien fireworks rain date is Sunday, July 2nd at 6:30 p.m.
Code Red notifications announcing the fireworks schedule and parking information will be sent to Darien residents on Saturday morning and updated schedule information will be posted on the Town of Darien web site.
Parking passes are valid for both Saturday and Sunday evenings. No parking pass refunds will be granted for schedule changes.
Original article:
You can still get a parking pass for Saturday's Independence Day fireworks display at Darien High School — as of mid-afternoon Thursday, there were 85 passes left, although they were selling at a steady clip.
Last year, the $30 passes sold out, but the sales seem slower this year. In order to park at the high school, you'll need a pass (available until 4 p.m. at Town Hall).
Passes won't be sold at the event. All foot traffic and of-campus parking is free.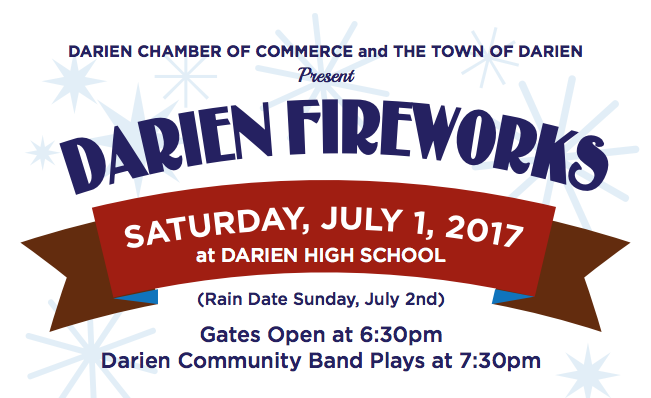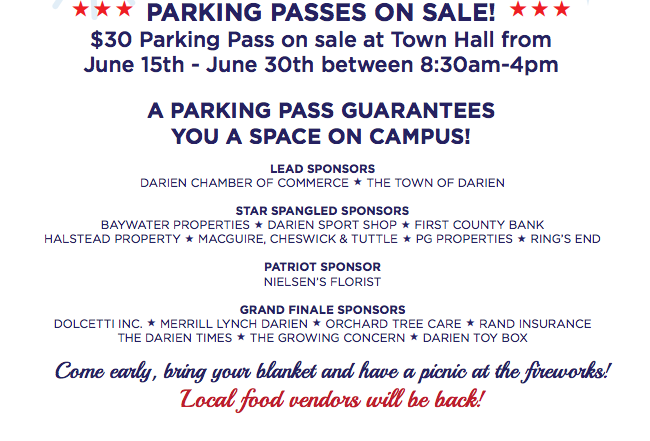 Rules and Regulations
The Darien Police Department will enforce traffic regulations and monitor security for the town's fireworks display on Saturday, July 1.
Passes must be visible on the vehicle's dashboard when approaching the main entrance.
All PAID parking traffic will enter DHS campus from Noroton Avenue. The main entrance will open at 6:30 p.m.
A handicap permit is required to park in the limited handicap parking spaces available.
Police ask you to give yourself enough time to walk to the high school — that will make traffic conditions easier.
Here are more rules announced by Darien police:
Due to the large number of vehicles expected, parking regulations and designated tow away zones will be strictly enforced. Vehicles in hazardous locations, impeding traffic flow, or are blocking driveways will be towed. When parking capacity has been reached, Noroton Avenue extension will be closed to vehicular traffic.
No parking will be allowed on Noroton Avenue. Parking is permitted on the south side of the public portion of Holly Lane and the west side of Libby Lane.
Parking lots (with free parking) are available at the Middlesex Middle School and McGuane Field.
No alcoholic beverages are allowed on school property. As a safety precaution, all bags, backpacks and coolers will be subject to inspection.
Parents are reminded that they will not be allowed on the high school campus grounds to pick up their children until after the roads are clear. For the safety of all spectators, light colored clothing should be worn and if possible, spectators should carry a flashlight or a chemical light.
An emergency services command post will be located in the parking lot near the football field entrance.