The third annual Fashionably Westport runway show, featuring the latest styles from downtown Westport merchants and beauty salons, takes place Saturday, March 4.
The event, organized by the Westport Downtown Association, continues Sunday, March 5, when participating stores will host in-store events and promotions including pop-ups, trunk shows, giveaways and more, offering an opportunity for patrons to shop the runway looks and support local businesses.
A schedule of events will be available at WestportDowntown.com., where you can buy tickets: $75 for regular seating and $125 for VIP seating.
A portion of the proceeds from this year's event will benefit Homes with Hope in Westport, an agency dedicated to ending homelessness in Fairfield County.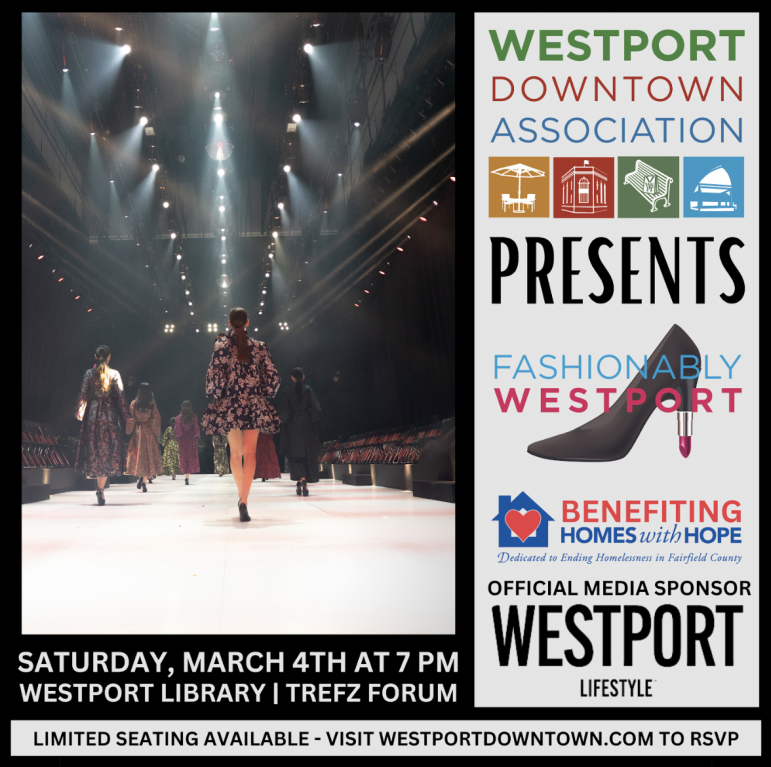 All patrons will receive a gift bag loaded with gifts from participating merchants, sponsors and salons.
New this year, guests will also be treated to Precious Oysters, a tide-to-table raw bar catering service specializing in oysters and clams, committed to supporting sustainable seafood by creating boutique raw bars for private events. Blossom + Stem will be providing the stunning flower arrangements.
People Participating
DJ Paul Lacano will be back for runway music and cocktail hour following the show, with cocktails by Don Memo brought to you by Titos and Tuck Gin from Ninety 9 Bottles of Westport as well as light bites prepared by the local Walrus Alley.
Courtney Davis will be the master of ceremonies for the event. The Texas-born, NYC-seasoned, Connecticut-based comedian who splits her time between Westport and Palm Beach, where she is the creative director of a 1920s era boutique hotel.
Courtney is also the host of "Courting with Courtney" on the Anna and Raven Show on Star 99.9. She performs comedy all over Connecticut as well as in NYC.
Amy Guzzi is back as the runway director this year. Amy is a fashion stylist and stylish mom living in Weston. Amy's self-described style is "classic and traditional" with a mix of old and new. She specializes in the art of mixing high end staple pieces with my favorite budget finds.
Modeled by local friends, including models including Town Selectwomen Jen Tooker and Andrea Moore, the event will be staged in the reimagined Westport Library Trefz Forum with a raised runway and professional sound and lighting.
John Videler Photography will again take pictures this year. Artistex Salon will also be on site doing touch ups backstage for participating models.
Fashionably Westport will feature spring and summer looks from over 20 retailers and salons in Westport.
Merchants and Salons Participating
Participating merchants are Bella Bridesmaids, Brochu Walker, The Plumed Serpent, Winged Monkey, Scout & Molly's, Eileen Fisher, West, Splash of Pink, Southern Tide of Westport, Bobbles & Lace, Fred, Express Edit, Athleta, unsubscribed, Marine Layer, Offline by Aerie, Pure Barre Westport, 7 for all Mankind, Splendid and more.
Participating Salons: Artistex Salon, Moxie Salon & Beauty Bar, Blow Dry Westport, SALON Dada
About the WDA
The Westport Downtown Association is a nonprofit organization of merchants and landlords working together to improve the commerce and culture of downtown Westport, CT, for the benefit of the community and commercial interests.
About Homes with Hope
A Westport-based organization, Homes with Hope is dedicated to ending homelessness in Fairfield County. For nearly 40 years, the agency has been providing essential services to the most vulnerable members of our community. It offers support services and housing options so everyone it serves has the opportunity to achieve a successful and independent life.
Thanks to …
The Westport Downtown Association is grateful to the many generous sponsors who make this event possible, including Anderson Renewal, Randel Law Offices, The Visual Brand, T.A.O. Modeling Agency, David Adam Realty, The Nolan Team at Compass, Westport Lifestyle (media partner) and The Westport Library (venue partner). Hip Modern V, The Dreamcoat by Vernice and Greenwich Medical Spa will also be on site. We are thrilled to have John Videler Photography capturing the event through his lens again this year. Artistex Salon will also be on site doing touch ups backstage for participating models!